Film Fundamentals for Teens
July 7, 2020 @ 1:00 pm

-

4:00 pm

$160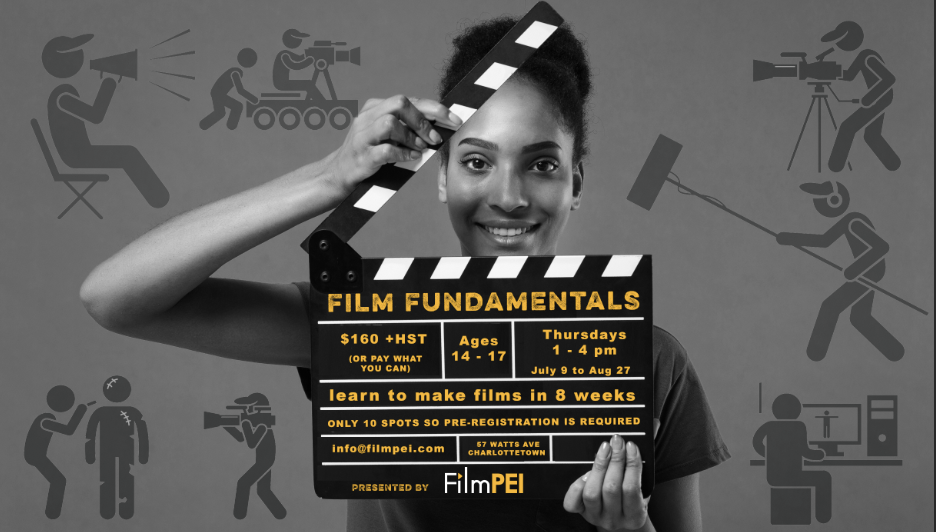 Learn how to make your own film from local industry professionals!
FilmPEI Teen Film Fundamentals delves into the process of filmmaking and all the elements that are part of making a project from beginning to end.
Students will be introduced to camera equipment, lighting and sound equipment, complete with a hands-on tutorial.
In addition to the technical elements, we will get into story telling, story structure, authenticity and diversity. How do we tell a story?
The class also looks at production management, script breakdown, locations and finding folks to work with, i.e. all the paperwork that goes with making a movie.
Basics in directing, storyboarding, focusing, framing and point of view will be also be covered as students prepare to make their own short towards the end of the course.
Students will create their own short film together and then shoot and edit their own films.
Anyone who attends this Film Fundamentals summer program can expect to have a well rounded view of what goes into making a short film and also have a new group of friends to make those films with!
Training is every Tuesday afternoon from July 7-August 25. Given the depth of the material covered and the goal of making a film together, students must be prepared to come to all eight classes.
AGE: 14 -17
DATE: Tuesdays – July 7th to August 25th (students must commit to all 8 sessions)
LOCATION: FilmPEI – 57 Watts Ave Charlottetown PE C1E 2B7
FEE: $160 (or Pay What You Can)
There are only TEN spots so everyone must pre-register with Sharlene at info@filmpei.com.
COVID -19 PROTOCOLS ARE IN PLACE. FACILITATORS WILL WORK OUTSIDE AS MUCH AS POSSIBLE AND WHEN INSIDE THE 2 METRE RULE WILL APPLY. IT IS SUGGESTED THAT YOUTH BRING THEIR OWN MASKS (FilmPEI will provide if this isn't possible)