FilmPEI Stop Motion Animation Workshop
March 12, 2022

-

March 13, 2022

$50.00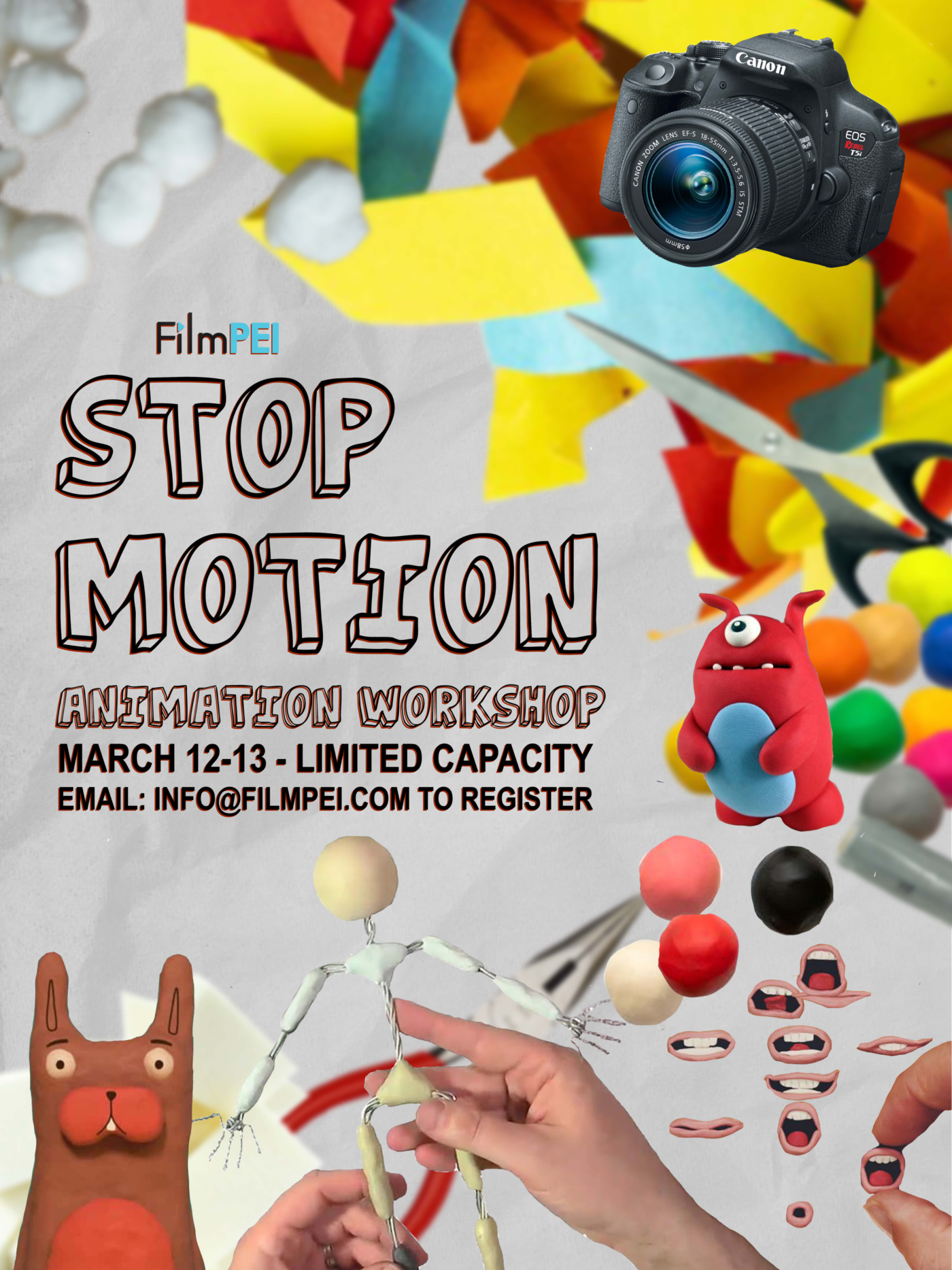 This is an introductory two-day workshop where you'll learn how to make your own stop motion animation from scratch – from puppet building and set design all the way to shooting and animating.
There will be four stop motion stations for groups of four to five people each, so participant capacity is limited. You can sign up in groups or as an individual to be grouped. Each station will be provided with a setup kit but there are some required materials you'll need to bring:
One stick of Epoxy Putty (this can be found at most hardware stores)

Any figurines or toys you would like to animate

A bag of sponges (dish sponges work)

A bag of cotton balls

Optional: large cardboard box

Pack a lunch for the long days!




The first day will focus on brainstorming ideas and designs as well as building your set and puppets – and on the second day you'll be shooting your animation!
Where: FilmPEI (57 Watts Ave., Charlottetown) 

When: March 12 to 13, 2022 @  11 a.m. to 6 p.m. on both days
Fee: $50.00 per participant
Contact: info@filmpei.com for inquiries and registration!
ABOUT THE INSTRUCTOR
Teresa Kuo was born in Taipei, Taiwan and grew up on PEI. Inspired by her family of professional animators, Teresa has earned a BFA in Animation (Concordia 2018) and a MEd. (UPEI 2020). Although Teresa's versatile practice is based in animation, she has a passion for a variety of work in the arts. When not working on her next animated film, she teaches watercolour painting, illustration and design.
Much of Teresa's filmmaking reflects on her duality as a Taiwanese Canadian and her unique experience growing up in PEI. Sometimes her work follows a linear storyline, other times her focus is the mundane of a lived experience or feeling. Themes of details and aestheticism often appear in her work. Teresa has produced animations for Vince the Messenger's music video, "Black Sheep," and animated stage designs for Ebb and Flow: Tides of PEI Settlement, a show which she also produced.