2023 F4W


Application Window is now closed.
Thank you to all who applied. 
FilmPEI is excited to announce the 2023 iteration of the Film4Ward program, an incubator program for film production and skill capacity building for both emerging and professional filmmakers.  Leveraging industry expertise across PEI and Canada, workshops, as well as mentoring & shadowing opportunities.
The Film4Ward program was designed to develop talent and content from emerging to professional PEI filmmakers to make them more competitive at a national and international level and forward the creative careers of these filmmakers in a meaningful and strategic way. From this program, creators have calling card projects they can use to help express their knowledge, capabilities and skills, to help them move their career forward to larger budget projects.
NEW 

4 

THIS YEAR
FilmPEI has gone back to the drawing board to reintroduce the Film4Ward program for 2023. We have changed the format slightly to encourage growth while still focusing on training and skill development. This year the F4W Program contains two Sub Programs for applicants to apply, the Beginner Shorts Program and the Pilot Program.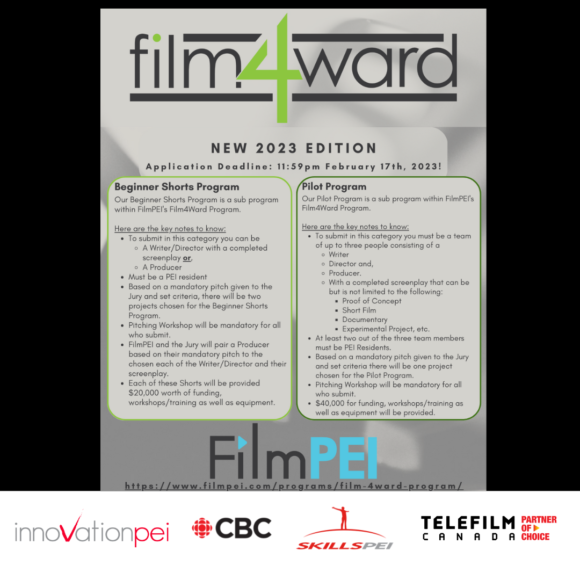 IMPORTANT DATES:
Tuesday, January 31st, 2023 :  2023 Film4Ward Info Session
Tuesday, March 7th, 2023 : Optimal Pitch – Kevin Wright Session

Tuesday & Wednesday , March 15th & 16th, 2023 : Optimal  Pitch – Workshop with Kevin Wright for all Shortlisted F4W Projects.
Week of March 27th – 31st, 2023 (Beginner Shorts Program Writer/Directors and Pilot Program Teams) : F4W Jury Pitching 

Week of April 3rd – 6th, 2023 (Beginner Shorts Program Producers) : F4W Jury Pitching
PROGRAM DOCUMENTS: 
Film4Ward Frequently Asked Questions
Film4Ward  is funded by the Department of Economic Growth, Tourism and Culture through Innovation PEI, SkillsPEI and the Culture Action Plan, with additional funding provided by Telefilm Canada and CBC.
CHECK OUT THE BEHIND THE SCENES VIDEOS FROM SOME OF OUR EXCITING  PAST F4W PRODUCTIONS.