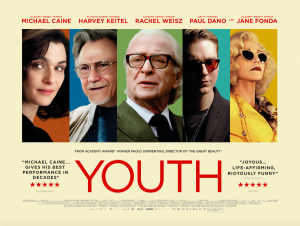 Come join us Thursday, February 11 at City Cinema for the 7:00pm screening of youth.
We will gather together as a group afterward and head to an agreed upon location for a drink and a chat about the film! Those who attend the discussion will be entered in a draw to win two City Cinema tickets. So come join us!
Click here for the event information.
Youth


Rated 14 Accompaniment (Crude Content, Nudity) ~ Runs 123 minutes


Dir.: Paolo Sorrentino, Itlay/France/Switzerland


Michael Caine, Rachel Weisz, Harvey Keitel, Jane Fonda


European Film Awards Winner for Best European Film, Director, and Actor.
Academy Award nominee for Best Song.


"Gloriously shot and scored, Youth is an exquisite meditation on art and aging by Paulo Sorrentino (Oscar winner for The Great Beauty). Ardent and artful, every frame of the movie is filled with ravishing images that evoke Sorrentino's idol, Fellini. Youth is a feast for actors. Both Harvey Keitel and Michael Caine are wonders to behold. Keitel, in fine form, seizes the role of a man who thirsts to make one last film 'testament', while Caine plays his best friend, a composer who won't come out of retirement, even for a knighthood. Rachel Weisz is sublime as Caine's daughter. And fasten your seat belts for Jane Fonda, in a juicy role as an aging Hollywood star. But it's Caine, in the best and most moving performance of his later career, who reflects the soul of this hypnotic and haunting film that attempts to reconcile youth and age, not set them apart." – Peter Travers, Rolling Stone